Tourists to enjoy exclusive discounts with Baku Card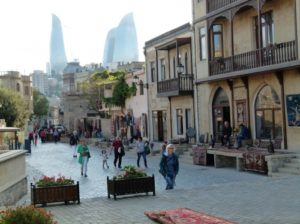 Azerbaijan's National Tourism Promotion Bureau has prepared special cards by means of which tourists will be able to use public transport, visit city museums and cultural centers for free or at a discount in Baku.
The new product "Baku Card" is called upon to further increase the interest of tourists in our country, the National Bureau told Trend.
"Baku Card" is the first and only official card of the city, thanks to which its owners may also receive discounts and special offers in shops, cafes, restaurants, museums of the capital as well as to use public transport services for free or at a discount. The cards can be purchased at special kiosks or online.
A ceremony of signing a memorandum between the National Tourism Promotion Bureau, the Baku Transport Agency and PASHA Travel with the aim of creating Baku card will be held on February 28.
The memorandum will be signed by the director of the National Tourism Promotion Bureau Fuad Nagiyev, the general director of the BTA, Vusal Karimli, and the general director of PASHA Travel operations Florian Sengstschmid.
Earlier, Kanan Guluzade, the spokesperson for the National Tourism Promotion Bureau said that the use of such cards will be convenient for tourists, and at the same time will bring some profit to the National Bureau. He added that such tourist cards are used in many developed countries.
Azerbaijan, the popular destination for many tourists, attracts millions of visitors every year. The country is popular for a number of archaeological and historical sites, decently depicting its past.
The country views tourism development as a priority in its efforts to diversify the non-oil economy. A number of tourist facilities have been built in the regions, and cultural and historical reserves have been set up or restored.
Thanks to all these, Azerbaijan has improved its tourism performance in the Travel and Tourism Competitiveness Report 2017 released by experts of the World Economic Forum (WEF).
The number of tourists who visited Azerbaijan in January 2018 exceeded 185,000 people, which is 17 percent more compared to January 2017, according to the Ministry of Culture and Tourism.
In general, for the past 10 years, the number of tourists visiting the country increased five-fold.
Source: azernews.az