Bahrain plans to launch direct flights to Azerbaijan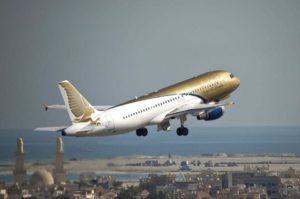 Bahrain's Gulf Air airline is planning to launch direct flights to Baku, the company informed on February 26.
The airline plans to significantly expand its activities this year and open many new direct flights. One of the destinations is Baku.
Gulf Air, the national airline of Bahrain, has been operating flights since 1950. The company is one of the first commercial airlines established in the Middle East.
To date, Gulf Air is among the largest international carriers, serving 42 destinations in 25 countries across Africa, Asia and Europe.
The airline's fleet consists of 28 modern wide- and narrow-body aircraft, which include six types of Airbus as well as Boeing 787-9 and Bombardier CS100. Next year the company will purchase another 39 aircraft. Its main base is Bahrain International Airport.
Azerbaijan has lately become the most favorite place for travel of many Arab tourists. The majority of them are from the UAE, Saudi Arabia, Qatar, Kuwait, Bahrain, Oman and Iraq. The growing interest to the country has several reasons, such as short distance to Azerbaijan, opening of more direct flights, beautiful nature of the country, halal foods in restaurants, etc.
As for the tourism infrastructure, today Azerbaijan can accommodate about 40,000 tourists in its 575 hotels, which include a series of luxury ones – Excelsior, Hilton, Four Seasons, Fairmont, JW Marriott – as well as several budget hotels for cost-conscious travelers. Moreover, 25 hostels and 92 apartments for tourists operate in Baku.
Source: azernews.az